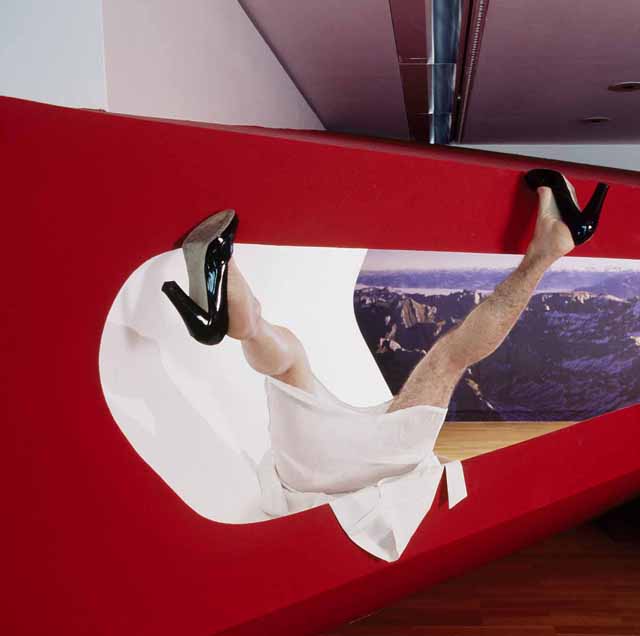 Curator: Simon Rees
Opening: Friday 7 September, 18.00
Artists' talk: Friday 7 September, 15.00
Performance: Friday 7 September, 19.00
Long before anyone described 'artists as deejays' punk and its DIY [do-it-yourself] aesthetic ruled. DIY meant anything goes and punk was a mash of styles played hard, fast, and with an attitude. Many of the leading-edge punk bands came out of art school — including the New York Dolls, Talking Heads, Throbbing Gristle, and Sonic Youth — so record sleeves, costumes, stage sets, on-stage performance antics, and concert films were refracted through the prism of contemporary art. A number of glam-rockers also came out of the art school milieu (think, David Bowie, Brian Eno, and T-Rex) and their high-camp reflected their high-art sensibilities. Punk was also the movement and the moment when women started truly rocking for themselves, incorporating explicit post-feminist political and performance strategies into their stage-personas, costuming, and stage-productions; high among them being raw sexuality, nudity, inflammatory language and sloganeering. (A roll call would include Siouxsie & the Banshees, The Slits, Nina Hagen, and Martha and the Muffins). Now let's hear it for the Chicks On Speed….
Chicks On Speed are all that and more! An all girl band, performance ensemble, visual art ensemble, which also release and produce music made by women on their record label. For Shoe Fuck! their largest-scale solo exhibition — being presented at the Contemporary Art Centre, Vilnius — Chicks On Speed are making a project that reprises the attitude of punk and combines it with strategies of 1960s women's performance art — with a 21st century and late-capitalist twist. The artists are going to be living in the space of the gallery for three weeks while preparing the exhibition in a redeployment of the 1960s 'live-ins' and 'love-ins' made famous by Japanese Fluxus artists Yayoi Kusama and Yoko Ono. Kusama, who was one of the first artists to get naked and make fun of the exploitative practices of male artists like Yves Klein, is in good company with Chicks On Speed. Their photographic performance collages are equally referential of the early work by Martha Rosler. There'll also be slogans, fashion, and a listening lounge of the recent 3-CD Box Set Girl Monster of new music made by women that Chicks On Speed have released on their label. There's even a spaceship for Chicks On Speed to blast their brand of new-millennial (or is it alien?) feminism way into the future. Not to mention accessories — undoubtedly the cast and characters of Desperate Housewives or Sex In The City never got as closely acquainted with a pair of classic Chanel Pumps as Chicks On Speed do here. And as those boots are made for walking 'Shoe Fuck!' will kick-start with an opening night performance — look out.