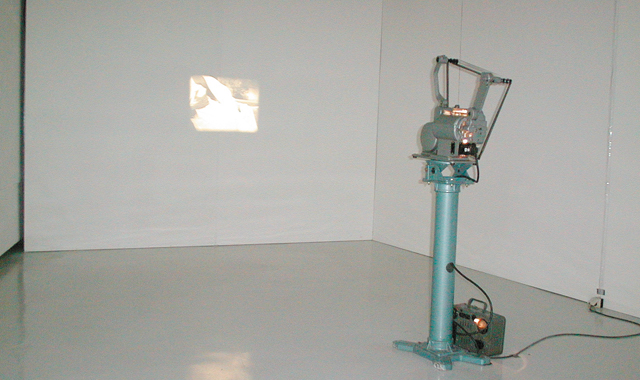 Deimantas Narkevičius (born in 1964) is one of Lithuania's most widely recognised artists on the international art scene. He has exhibited widely and has participated in many international art events including the biennial of European art Manifesta 2 in Luxembourg (1998), the international biennial in Melbourne (1999), the exhibition 'Near and Elsewhere' at the London Photographers' Gallery (1999), the exhibition 'After The Wall' at the Stockholm Museum of Modern Art (1999).
The main objects of Narkevičius' attention are collisions of individual and collective history, an artist's autobiography, motifs and shifts of human existence in a concrete historical situation, geopolitical and ideological myths. The artist analyses these themes like a specialist in cultural anthropology using the principles and technology of cinematography.
In this solo show of his work, Narkevičius presents two films – His-story (1998) and a totally new 8 mm film (shown in the video format) Legend Coming True (1999). His-story is an autobiographical work reconstructing concrete situations of the past in the stylistics of amateur cinema carrying us to the past times.
'His-story is the first explicit attempt by the artist to reinterpret cinematography (i.e. not by means of the conventional medium of figurative art) in Lithuania. (By the way, in the project 'Ground Control' in London in 1997, Narkevičius explored another public medium – the radio.) Reflecting on the local and global problems in the Lithuanian context, Narkevičius' films transgress it at the same time.'
Raimundas Malašauskas,
Jonas Valatkevičius
Legend Coming True is a film exploring the end of the Yiddish community in Vilnius during the Second World War, the historical circumstances and how they influenced people's lives. In the artist's words, it is an 'unfinished theme'; it is presented in the words of a witness of all these events who has become a heroine of the film.
'Having faced the effects of the liberation from Communism and coming to understand the restrictions imposed by the Soviet system, Lithuanian people find new meanings of their distant and recent past. Narkevičius' films and his use of various narratives and genres reflect complex relations with the past and ideological ghosts haunting Lithuania on its way to the free market and self-determination.'
Juliana Engberg,
Curator of the Melbourne International Art Biennial