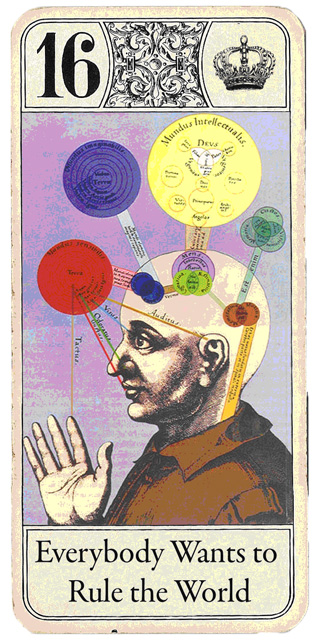 Participating curators:
Jacob Fabricius
Mathieu Copeland
Marina Fokidis
Alain Diogo
Stuart Comer
Matthieu Laurette
Xavier Douroux
Francis Mc Kee
Philippe Pirotte
Jens Hoffmann
Adriano Pedrosa
Mathieu Mercier
Pierre Bal-Blanc
Andrea Viliani
Julien Fronsacq
Nicolas Trembley
Raimundas Malašauskas
Giovanni Carmine
Sylvie Boulanger
Beatrix Ruf
Nicolas Bourriaud
John M Armleder
Emmanuel Lambion
Stefan Kalmar
Claire Le Restif
Stephane Carrayrou
Producers of the video:
François Aubart,
Julija Cistiakova,
Haeju Kim,
Lucia Pesapane,
Fabien Pinaroli,
Yuka Tokuyama,
Sadie Woods.
The documentary style video Everybody Wants to Rule the World is related to the book Harald Szeemann. Individual Methodology, which was edited by seven participants of the 16th session of the Ecole du Magasin, Grenoble. Ten years ago, in 1997, Harald Szeemann was invited to curate the 4th Lyon Biennial and chose to develop the resulting project 'L'Autre' (The Other) as a solo curator. In 2007, the 9th Lyon Biennial was guided by Stephanie Moisdon and Hans-Ulrich Obrist who invited 50 curators to write the history of the first decade of the millennium, before it has ended, in a playful form. On the occasion of the Biennial's professional preview from 17-18 September 2007, participants of the 16th Magasin Class organised the filming of a story within a story.
The organisers of this story invited the contributing curators of the Biennial to answer one particular question: Over the last 10 months our class group has been researching the methodology of Harald Szeemann and the tools he created to develop his autonomous practice. What are the specificities that make your own curatorial practice unique?
There was no specific selection among the Lyon Biennial curators. Those who responded to the invitation participated in this project. Their answers, recorded on video, needed to be less than 10 minutes; and form a collection of opinions about curatorial practices pertinent to our times. The result is a heterogeneous, non-exhaustive, non-scientific set of testimonies
The program was first presented publicly on October 6, 2007 at Magasin, National Contemporary Art Center of Grenoble. After showing the video at the Contemporary Art Centre, Vilnius, it will travel further and be presented in new contexts.
Note: Everybody Wants to Rule the World is a song recorded in 1985 by the British musical duo Tears for Fears – who are white middle class male representatives of the 1980s and the decade's rising consumerism. The guitar theme was sampled in 2001 by Nas – a black American who represents this decade's cultural and economic evolution of the music industry.