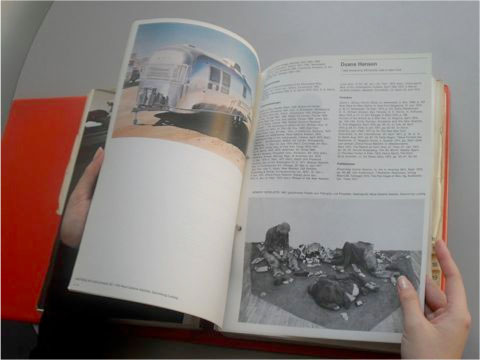 An archive of materials related to the 1972 exhibition "Documenta 5" in Kassel, Germany.
The display at the CAC Reading Room consists of the original catalogue, press clippings (that include reviews by Hilton Kramer, John Russell, Barbara Rose, Michael Gibson) and other printed matter directly related to the exhibition: among others, the "Documenta 5" poster designed by Ed Rusha, a shopping bag printed with a diagram that illustrates Joseph Beuys' theory of social sculpture, and a copy of "The Artist's Reserved Rights Transfer and Sale Agreement" – an artist's sale contract protecting the artist's moral and economic rights, initiated by Seth Siegelaub.
The archive also includes two issues of Artforum magazine from 1972 that contain an open letter signed by ten prominent artists which asserts the right of artist to control the way their work is exhibited, and reviews of "Documenta 5" by Carter Ratcliff and Lawrence Alloway.
Lawrence Alloway described "Documenta 5" as "something between a supermarket and a wunderkammer". The exhibition included works by nearly 200 participants despite the public resistance to the methods of Harald Szeemann, who was appointed the exhibition's general secretary. Szeemann aimed to systematically trace the relations between reality and forms of visual representation: his attention was drawn not so much to the individual artworks as to ways of seeing, including those of nonprofessional artists. Acknowledging the growing importance of media, he also included images from advertising, fashion and cinema alongside the artwork associated with most radical new art movements of the time, such as Arte Povera, Viennese Actionism and American conceptual art.
The discussions that followed "Documenta 5" were widely covered by press, which lead to the project reaching audiences beyond the professional art circles. It became a precursor to the blockbuster contemporary art exhibitions that have reached unprecedented scale a few decades later (the "Documenta 12" in 2007 was visited by more than 750 thousand people). It was not only one of the most important exhibitions in the professional biography of Harald Szeemann, but also in the XX century's history of art – according to many, Szeemann turned exhibition into an art form.
The materials displayed at the Contemporary Art Centre were assembled by David Platzker, a former executive director of "Printed Matter", for the New York organization Independent Curators International (ICI) and is part of the ICI's series "Exhibitions in a Box". The project is made possible, in part, by a grant from the Horace W. Goldsmith Foundation; the Andy Warhol Foundation for the Visual Arts; the ICI Board of Trustees, and ICI Benefactors Barbara and John Robinson; Lithuanian Culture Support Foundation, Lithuania.
You may find more information about the exhibition and its organisers at www.ici-exhibitions.org.