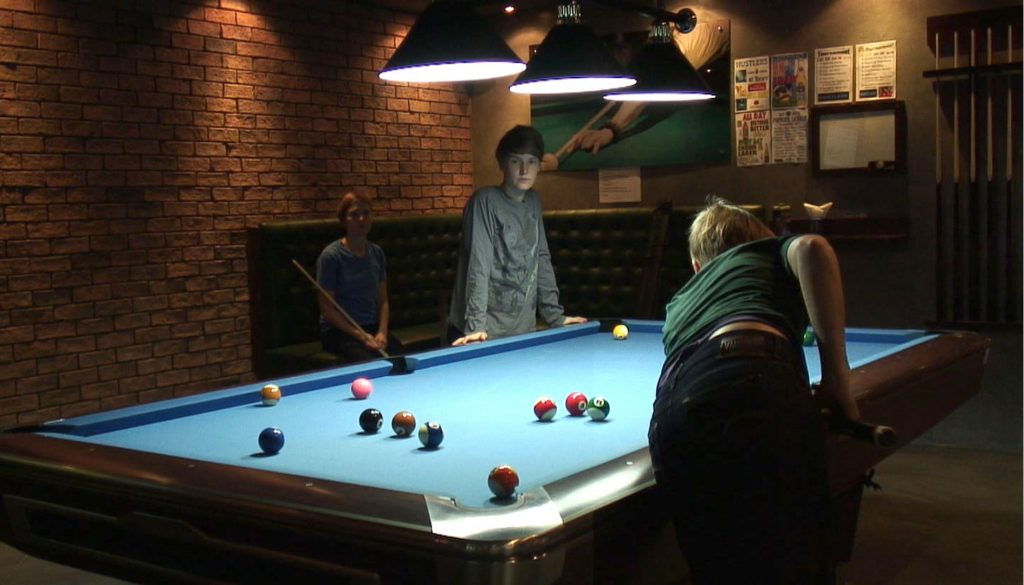 Opening: Friday 28 January at 6 pm
Hip-hop performance by Sam de Groot and Paul Haworth at 7 pm
Saturday 12 February at 7pm performance "Ride the Wave Dude" by Krõõt Juurak and Mårten Spångberg
An old English saying claims "If it ain't broke, don't fix it". This expression has been popularized from the idea that any attempt to improve on a system that already works well is purposeless, and may even be detrimental. Supposedly, this saying later became even a source of inspiration for anti-activists. But what if something only works half-way?
It might be said that today's world is very much concerned with making the most effective and efficient use of a situation and therefore the concept of halfness as such is hardly ever considered as a quality in itself. However, if you half-fix something that is partly broke, will it end up being more fixed or more broke? The paradox included here provides space for a necessary amount of absurdity and ambiguity. Employing this, the exhibition "If it's Part Broke, Half Fix it" is not seizing an opportunity to tell a critical, engaged or unique story but is rather looking into different ways of and reasons for disappointment and shame but also speculation and chance, using Yahtzee-like methods, where the level of randomness is high and luck, use of probability, and modest amount of strategy are required.
For example the video "Players" by Pilvi Takala is portraying a poker community following the logic of the game. They are using probability theory that ensures that they treat each other justly, and that everyone contributes equally. In the video work of Flo Kasearu human lives are for sale, best was before and now it's over! Works by Anu Pennanen, Anna Shkodenko, Taaniel Raudsepp and Sigrid Viir are in one way or other dealing with the notion of constructed environments, surveillance and monitoring. Krõõt Juurak and Mårten Spångberg are redefining dominating concepts such as crisis, representation, wild-life, city or success, and the notion of starting from the beginning.
The collective Johnson & Johnson is "not sure when exactly things started to go wrong" but came to realize "how sad they feel about it". Andrea Büttner states that "shame is a an emotion that indicates what really matters to us, a feeling reflecting on cultural conventions regarding what we are supposed to show or hide". Epp Kubu is portraying rather tragicomical situations of people who don't know what to do and therefore start to enjoy the suffering. The installation "The Pain" by Paul Haworth and Sam de Groot argues that maybe seventeen-year-olds have been right all along, underlining the stark dichotomies of here and there, now and later, me and you.
Participants: Andrea Büttner (GER), Dalia Dūdėnaitė (LT), Denes Farkas & Neeme Külm (EST), Carina Gunnars & Anna Kindgren (SWE), Paul Haworth (UK/NL) & Sam de Groot (NL), Johnson & Johnson (EST), Krõõt Juurak (EST/AT) & Mårten Spångberg (SWE), Flo Kasearu (EST), Epp Kubu (EST), Darius Mikšys (LT), Anu Pennanen (FIN), Taaniel Raudsepp & Sigrid Viir (EST), Rytis Saladžius (LT), Anna Shkodenko (EST), Pilvi Takala (FIN), Triin Tamm (EST), Timo Toots (EST).
Curated by Margit Säde Lehni
Organized by Center for Contemporary Arts, Estonia, and the CAC, Vilnius
With the support of: Nordic Culture Point, Cultural Endowment of Estonia, Estonian Ministry of Culture and IASPIS
Opening performance by Paul Haworth & Sam de Groot at 7 pm
It's hip-hop. Paul Haworth and Sam de Groot's performances mix rap, beats, song, and poetry. Themes and subjects include: the city and its ebb and flow, babies, love, teen depression, inchoate longings. Paul studied as a painter, Sam as a graphic designer but it's in hip-hop – the joy of performance, thrill of sculpting beats, search for rhymes, its clear and direct communication – that they have found their calling, their North Star.
Image: Pilvi Takala, Players, 2010, videostill