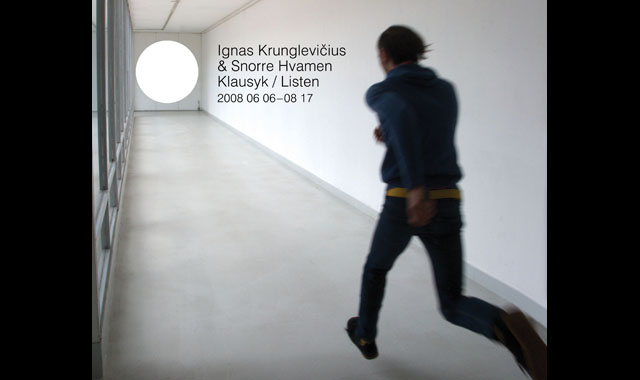 Listen is a new site-specific commission by Oslo based artists Ignas Krunglevičius (LT) and Snorre Hvamen (NO).
The title of the project is inspired by the characteristic use of the phrase 'listen' by legendary BBC television producer and naturalist Sir David Attenborough who has been creating documentaries on nature for over 50 years. 'Listen' is not an imperative but rather an enthusiastic call and encouragement to develop and maintain an individual perspective on the environment in all its myriad guises.
Listen consists of several site-specific audio installations. On the first floor of the CAC visitors will discover a number of audio 'obstructions' where the physiological impact of the sound is as important as its ideological connotations. The sounds – specifically recorded and broadcast for their location – can be used by the listener to physically re-orient themselves in the space and test their senses against the new contextual and environmental situation.
Another part of the audio project Listen is an audio version of Bloga Knyga – a book by a young Lithuanian philosopher (read by Airida Gintautaitė). This year, 2008, is officially the year of the book' in Lithuania so the artists have installed a soviet era-style park-bench as an audio-lounge, on which to sit and listen to the talking book, next to the entrance of the CAC.
More information about the work of Ignas Krunglevičius – and his collaboration with Hvamen – is available in the latest spring/summer edition of CAC Interviu magazine that is a special focus issue on art/music/sound.