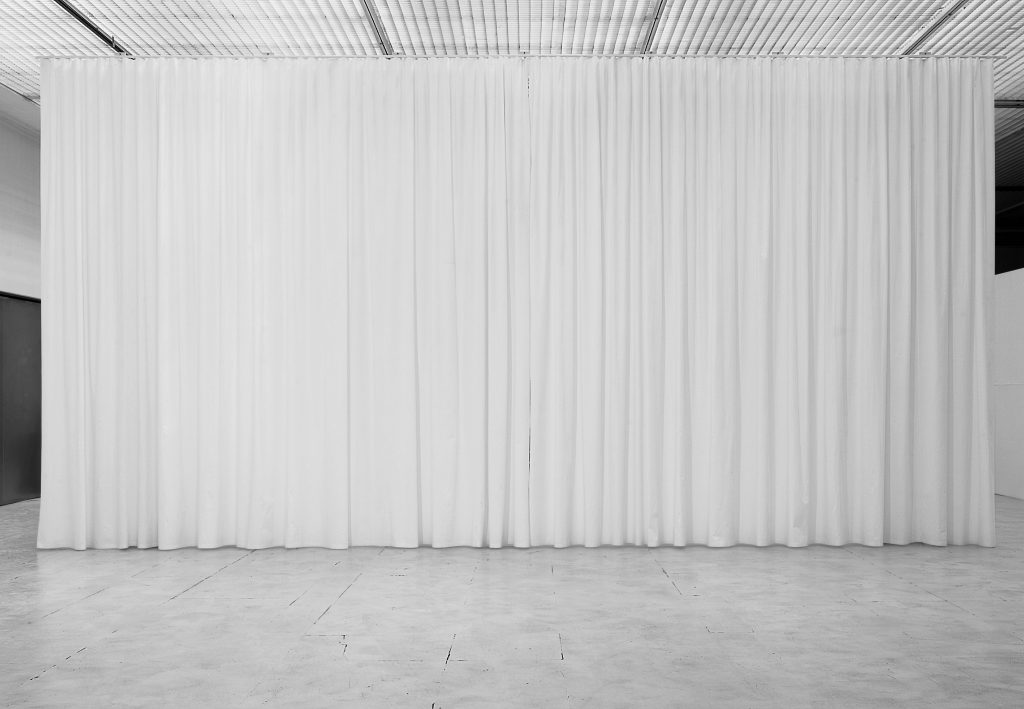 Address of the Pavilion "Scuola S. Pasquale," Castello 2786, Venice
What would the first national exhibition of Lithuanian art, held in 1907, look like if it were assembled today? In 1907, Lithuanian artists worked in different geographical contexts, yet they were united by their aim to lay the groundwork for a new national culture. Based on the notion of ethnicity, the historiography of Lithuanian art considers the 1907 exhibition as the onset of Lithuanian art to this day. Could artists living in the same geographic domain, but who belong to different cultural contexts, be mobilised by a similar aim today?
Behind the White Curtain is a work by Darius Mikšys for the Lithuanian Pavilion at the 54th Venice Biennale of International Art. It attempts to bring together and display a symbolic exhibition curated by a modern state and turn it into a real exhibition and national archive. Acting as both a self-constructed and self-organised public mirror, Behind the White Curtain constitutes a collection of artworks by artists who received the State Grant from the Ministry of Culture of the Republic of Lithuania over the last two decades (1992–2010).
The Lithuanian state selects artists for a symbolic exhibition by allocating prizes and grants to further the practice of Lithuanian artists. It could be seen as a targeted programming of cultural products. In this way, the state acts as a curator, whose exhibition hall does not have walls, and whose exhibition is on show for decades. Is it possible to see such an exhibition? How does one visit it? Behind the White Curtain is an installation and performance, taking place on both sides of the curtain. One side serves as a storage space for the entire collection, while the second operates as a rotating exposition; shaped according to the specific interests of each visitor.
Darius Mikšys (b.1969, Kaunas, Lithuania). His projects vary from a video documentation of a visit to the Parapsychology Fair at the Vilnius Sports' Palace to the attempted production of Gilles Peterson's shroud, selling an empty bottle of perfume on e-bay, proposing an ABBA museum in Qantas plane for Tempelhof airport in Berlin, creating a body of sculptures titled "My Jeff Koons", and establishing the very first Lithuanian cricket club named "Abdul Aziz's Holiday IX".
Lithuanian Pavilion project has been awarded a Special Mention for its conceptually elegant, and productively ambiguous framing of a nation's art history.
http://www.labiennale.org/en/art/videocenter/lithuania.html?back=true
Authors in the collection:
Valentinas Ajauskas, Gediminas Akstinas, Arvydas Ališanka, Alfonsas Vincentas Ambraziūnas, Aušra Andziulytė, Valentinas Antanavičius, Vėtrė Antanavičiūtė, Robertas Antinis, Žygimantas Augustinas, Ieva Babilaitė, Vytautas Balčytis, Arūnas Baltėnas, Arvydas Baltrūnas, Naglis Rytis Baltušnikas, Jurga Barilaitė, Ričardas Bartkevičius, Aušra Barzdukaitė-Vaitkūnienė, Darius Bastys, Rytas Jonas Belevičius, llja Bereznickas, Algimantas Biguzas, Jūratė Bogdanavičiūtė, Dovilė Budreikaitė-Dagienė, Eglė Budvytytė, Arturas Bumšteinas, Ieva Bunokaitė, Vitalijus Butyrinas, Linas Cicėnas, Romualdas Čarna, Ramūnas Čeponis, Gintaras Česonis, Saulius Čižikas, Ričardas Dailidė, Viktorija Daniliauskaitė, Joana Deltuvaitė, Rimantas Dichavičius, Laima Drazdauskaitė, Vytautas Dubauskas, Nerijus Erminas, Andrius Giedrimas, Tadas Gindrėnas, Danutė Gražienė, Bronius Gražys, Algis Griškevičius, Pranas Griušys, Giedrė Gučaitė, Leonardas Gutauskas, Vidmantas Ilčiukas, Romualdas Inčirauskas, Zita Inčirauskienė, Linas Julijonas Jankus, Darius Joneika, Agnė Jonkutė, Eduardas Juchnevičius, Violeta Juodzevičienė, Patricija Jurkšaitytė, Vidmantas Jusionis, Paulius Juška, Romas Juškelis, Vytautas Kalinauskas, Tomas Kapočius, Džiugas Katinas, Linas Katinas, Mindaugas Kavaliauskas, Jūratė Kirtiklytė, Elvyra Katalina Kriaučiūnaitė, Daumantas Kučas, Saulius Kuizinas, Arūnas Kulikauskas, Algimantas Kunčius, Algimantas Jonas Kuras, Andrius Kviliūnas, Kęstutis Lanauskas, Irma Leščinskaitė, Bernadeta Levulė, Rudolfas Levulis, Linas Liandzbergis, Dainius Liškevičius, Kęstutis Lupeikis, Aleksandras Macijauskas, Aurelija Maknytė, Vilmantas Marcinkevičius, Eimutis Markūnas, Raimondas Martinėnas, Dalia Mataitienė, Dalia Matulaitė, Dalia Mažeikytė, Evaldas Mikalauskis, Darius Mikšys, Vytautas Mockaitis, Jūratė Mykolaitytė, Vaclovas Nevčesauskas, Kristina Norvilaitė, Antanas Obcarskas, Aleksandras Ostašenkovas, Arvydas Pakalka, Lili Janina Paškauskaitė, Saulius Paukšys, Evaldas Pauza, Audronė Petrašiūnaitė, Gediminas Piekuras, Igoris Piekuras, Marijus Piekuras, Ramunė Pigagaitė, Grytė Pintukaitė-Valečkienė, Donatas Pirštelis, Romualdas Požerskis, Audrius Puipa, Jūratė Račinskaitė, Romualdas Rakauskas, Aistė Ramūnaitė, Marija Teresė Rožanskaitė, Egidijus Rudinskas, Bronius Rudys, Nomeda Saukienė, Algirdas Selenis & Aurika Selenienė, Algis Skačkauskas, Jolita Skėrytė, Simonas Skrabulis, Marius Skudžinskas, Rūta Spelskytė, Birutė Stančikaitė, Rasa Staniūnienė, Aloyzas Stasiulevičius, Jūratė Stauskaitė, Algirdas Steponavičius, Leonas Strioga, Antanas Sutkus, Nijolė Šaltenytė, Algimantas Šlapikas, Gerardas Šlektavičius, Rimantas Šulskis, Regina Šulskytė, Vytautas Švarlys, Algimantas Švažas, Rimtas Tarabilda, Solomonas Teitelbaumas, Vytautas Tomaševičius, Remigijus Treigys, Vytautas Umbrasas, Reda Uogintienė & Arūnas Uogintas, Eduardas Urbanavičius, Gintautas Vaičys, Henrikas Vaigauskas, Roberta Vaigeltaitė-Vasiliūnienė, Justinas Vaitiekūnas, Povilas Ričardas Vaitiekūnas, Arūnas Vaitkūnas, Nijolė Valadkevičiūtė, Arturas Valiauga, Kęstutis Vasiliūnas, Eglė Velaniškytė, Ramunė Vėliuvienė, Kazys Venclovas, Eglė Vertelkaitė, Rimaldas Vikšraitis, Vladas Vildžiūnas, Alfonsas Vilpišauskas, Nijolė Vilutienė, Mikalojus Vilutis, Juozas Vosylius, Aleksandras Vozbinas, Algimantas Vytėnas, Jūratis Zalensas, Elena Zavadskienė, Kazė Zimblytė, Gintaras Zinkevičius, Arvydas Žalpys, Birutė Žilytė, Darius Žiūra, Kazimieras Žoromskis, Irena Žviliuvienė, Stanislovas Žvirgždas
Commisioner: Kęstutis Kuizinas
Contacts:
Ūla Tornau / e: [email protected] / t: +370 689 99595
Jurga Daubaraitė / e: [email protected] / t: +370 617 23218