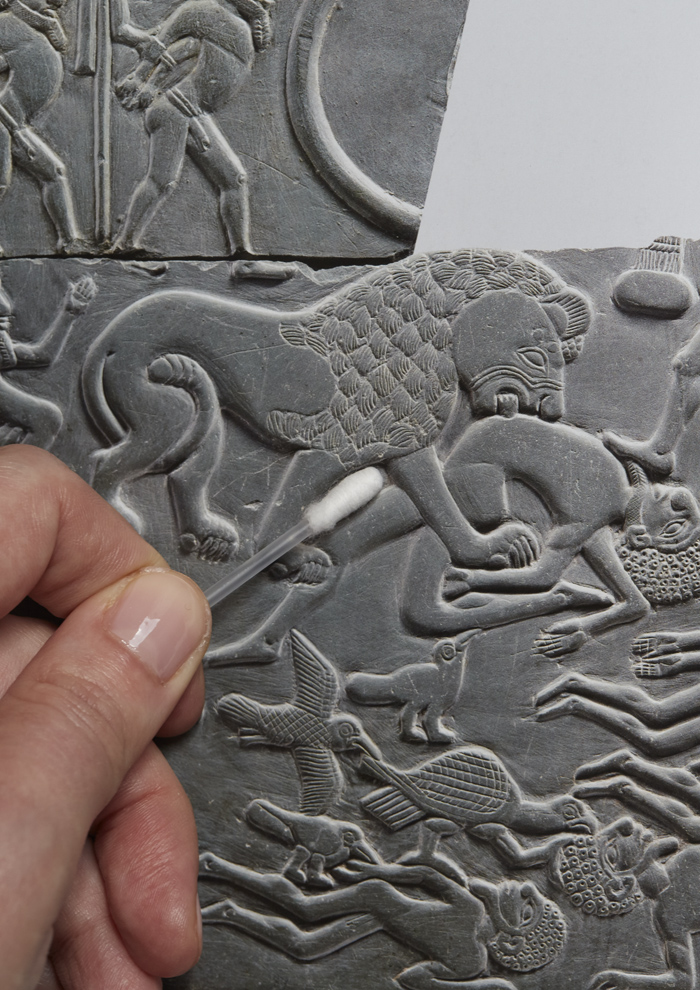 1. Note the Phrygian cap on right ledge of the third gate
usually worn when in pursuit of liberty
textile, 2017
2. Success after anxiety
it completes a portal but this one also makes you radiant
5-HTP (5 – Hydroxytryptophan), plaster, 2016
3. Hypothetical reconstruction of a gateway (I, II, III, IV)
four entries into what once might have been great – painted in the shades of what celadon – the sacred colour beyond description – might look like – the most transcendental of colors
sheetrock, wall paint, 2017
4. The wealth of Neolithic elites
fragments of a magnificent relief of what most likely depicted warriors and sealed water
plaster, pigment, 2017
5. The colossal writing desk
plaster, wood, cold cream and cigarettes, 2017
6. You and I are earth
a cave made of minerals, also components of a mountain
magnesium, zinc, calcium, copper, boron, selenium, manganese, iron supplements, stucco, 2016
7. To separate the sacred from the profane
reed, metal, paracord, 2016
8. Zero Dynasty (I, II, III, IV, V, VI)
photography series, 2016
Maria Loboda's exhibition stretches across the one-thousand-square-metre hall of the CAC, assuming the structure of an ancient chant; a repetitive chant of hope during times of collapse, which, by its rhythm, extends through to the unknown.
In Vilnius, Loboda further pursues her ongoing artistic explorations into archaic concepts of diverse belief systems, transcendental ideas of the human soul and their manifestations in arcane objects, archaeology, architecture, religion and art. This quest is mapped out into the total spatial installation consisting of a system of marks, which denote experiences of transition and transformation.
Maria Loboda (b. 1979, Cracow, Poland) creates puzzling and enigmatic spaces that lead deep into layers of rich historical narratives, and refer to the current state of things. Loboda graduated from the Städelschule in Frankfurt-am-Main under the class of Mark Leckey. Her work has been presented in numerous institutions worldwide including Documenta13. Her solo exhibitions have been held at Museo Reina Sofia, Kunstverein Braunschweig, Modern Art Oxford, and The Power Plant Contemporary Art Gallery in Toronto.