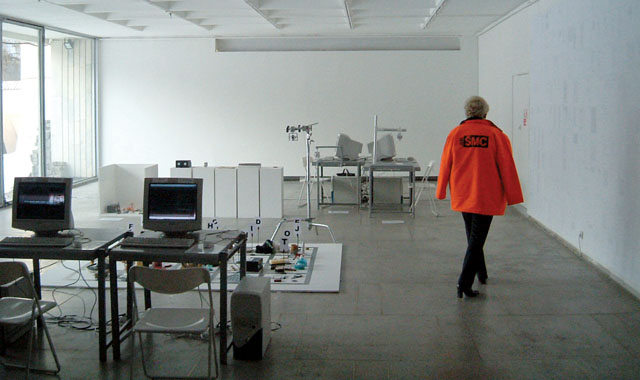 The initiator and supporter of the exhibition:
Franco-German Youth Office (FGYO)
Organiser:
Contemporary Art Centre
Curator:
Kristina Inciuraite
Probably for the first time at the Contemporary Art Centre, this exhibition more consistently presents net art, which has acquired a large variety of means and forms worldwide. Four famous net artists from Lithuania, France and Germany have been invited to present several internet projects.
3 Projects:
1. Bulot / x-arn Warehouse Operation
2. 028 & mi_ga asco-o
3. Thomax Kaulmann ASCII in Real Time
'Metamorphosis' is revealed in the process of interchange of signs, forms and meanings, through the migration of internet projects from the virtual world to the physical one and vice versa. Contemporary technology, the rhythm of information society and artistic interventions are adapted to the space of the Contemporary Art Centre:
– a 24 m long 'asco-o' band spread on the wall of the Contemporary Art Centre, having come from the rich virtual archive;
– a link between the digital and CAC space, in which one can play with objects brought in by different people, creating both a real and virtual warehouse;
-a conversion of images from CAC security cameras, presented in a certain code system.
More details about each participant:
Bulot / x-arn Warehouse Operation
http://www.x-arn.org/gds/beta
The French artist Bulot, whose real name is Sylvie Bourguet, like many other representatives of net art, uses a nickname and works with a team consisting of Gregoire Cliquet, Laurent Neyssensas and Yann le Guennec. It is ARN (in French it would mean 'Digital Net Projects'). ARN is a structure open to everyone, whose activity is 'directed to the net'. The research space of this structure is determined by a net-specific form of artistic activity. Daily internet gliding enabled ARN to outline and work out the fields of its internet activity, whose features have been decided by the nature of artistic activity not fitting into the boundaries of one subject.
This perception is directly related with the concept of environment, in which information interchange allows one to feel time as eternal transformation of something into something, as an inseparable part of our relation with reality. In this environment a meeting of local/analogous and general/ digital, and transformation of various reality forms is taking place.Several well-known ARN projects can be mentioned: Mediaterra kitchen, 2001 (http://x-arn.org/mediaterra-kitchen/), Looking for carbon, 2001 (http://x-arn.org/lfc/), RWXRWXRW, 2000 (http://X-arn.org/rwxrwxrw/), Infozone in Paris, 1998 (http://x-arn.org/infozone/) etc.
At the CAC Bulot presents an interactive project Warehouse Operation (in French – GDS).
Having combined the human and technical possibilities, the hypermedia project Warehouse Operation (GDS) will be focused on building a warehouse of various objects and materials. During the GDS project a warehouse of various objects sent in by people will be established in the Contemporary Art Centre. The technical and human possibilities, consisting of a link to a website and a warehouse established in a concrete physical space, provides a chance to find oneself in this warehouse with the help of the link and see the objects held in it. The communication mechanism is based on the circulation of commands and responses between the users and operators. Users communicate with operators physically staying in the warehouse on the internet. With the help of the link users send in their orders, and operators in the warehouse respond to them by concrete actions. When responding, the operators confirm the locally performed actions and in this way transform the link.
The process consists of a sequence of specific actions, whose beginning and order the user indicates to the operator in the warehouse:
– selecting objects and taking them out of the warehouse;
– transferring them to a separate zone and creating an identification document;
– exhibiting and general identification;
– placing them back to the warehouse.
In a separate zone a document representing the object, generally accessible with the help of the link, is presented. Any user can attribute to the observed object a meaning that he considers the most appropriate, or can present rational or imagination-based assessments and in this way create the general memory of the warehouse objects. In this way a link between the digital and physical reality is established. The developing relation between these two forms of being makes one to take a new look at the mutual relations of humans/machines and the perception of the net-generated reality.
Participants of the project:
Laurent Neyssensas: implementation of the project
Yann Le Guennec: modelling/programming
Sylvie Bourguet: project manager responsible for the conception
028* & mi_ga asco-o
http://www.asco-o.com
*028 aka d2b
The contact of two net artists, the Frenchman d2b and the Lithuanian mi_ga that encouraged their further collaboration took place in 1999. In the winter of the same year their joint project asco-o was presented; later it participated in the 'Trash Art' festival in Moscow. In 2001 at the Concrete Poetry festival in Berlin, $$11 project was presented; some time later it was released in CD-ROM format under the asco-o label. In 2002 asco-o was presented in ENSBA, Paris and 'Canal-Bleu' in Kassel. In the same year a CD- ROM entitled ask-oo was released.
The asco-o project is presented in the CAC. These artists will show the virtual presentation of asco-o as well as printed abstracts of asco-o database stuck to the long wall [length 24 m] of CAC.
Authors describe asco-o (pronounced as ask-oo) in a few words as 'ascii-art-mailing-list-web-archive'. The name 'asco-o' doesn't mean anything, but it has a clear reference to ASCII (pronounced as ask-ee), American Standard Code for Information Interchange. Currently (08 10 2002) asco-o database has 4495 ASCII abstracts and 114 subscribers, who are the co-producers and co-authors of the contents archived in the net. It is hard to say if the contents of asco-o mean anything, the observer of the project at the first glance usually does not understand anything, except the asco-o green (~= yellow-green) and some unsolicited ASCII signs. Though the observer who has some experience in net culture could pay attention to currently active so called spam art and concrete poetry in artistic mailing lists. And it is somehow true, because the asco-o mails first of all are not signed, people have a chance to post anonymously everything what could be expressed in 8 bits ASCII code. Furthermore, the asco-o project handles or is linked to a number of spam machines, created by net artists.
Thomax Kaulmann ASCII in Real Time
http://meta.orang.org
http://ova.zkm.de
http://www.bootlab.org
The third project is presented by Thomax Kaulmann. He is a data artist from Berlin. Basically, his name is associated with archives of music and ASCII (American Standard Code for Information Interchange).
In the last years software art was defined as such and has been more and more presented in various festivals and art galleries. The first moving ASCII films were done by ASCII Art Ensemble. Later, Thomax Kaulmann developed an ASCII converter to enable live video streaming in real time via the internet which was basically an add to his Orang (Open Radio Achive Network Group) project.
He will present a project where the view from CAC security cameras will be converted into the ASCII. The ASCII media converter enables to convert video into moving ASCII in real time.