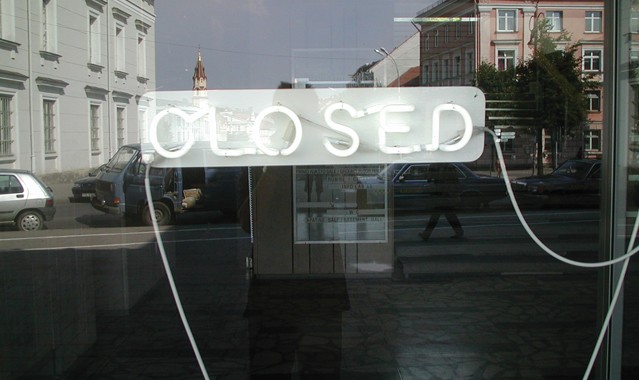 Artists:
Gaia Alessi, Art & Language, Fiona Banner, Robert Barry, Joseph Beuys, Pierre Bismuth, David Connearn, Matthew Crawley, Martin Creed, Angela de la Cruz, Tacita Dean, Barry Flannagan, Ceal Floyer, Peter Fraser, Margarita Gluzberg, Gilbert & George, Liam Gillick, Kristjan Gudmundsson, Graham Gussin, Hans Haacke, Douglas Heubler, Dean Hughes, Yves Klein, Gerhard Lang, Jeremy Millar,Tatsuo Mijajima, Jonathan Monk, Gabriel Orozco, Hiroshi Sugimoto, Slaven Tolj, Lawrence Weiner, Ian Wilson, Keith Wilson, Carey Young
Curators: Ele Carpenter and Graham Gussin
'Nothing is real' – The Beatles sang, 'The Invisible is real' stated Walter de Maria', 'Installations should empty rooms, not fill them' added Robert Smithson. Robert Henke aka Monolake found the emptiness of ex-Lenin square in Vilnius as 'a perfect monument to nothing'.
NOTHING exhibition shows how artists from the 1960's to the present day have been occupied with negotiating nothingness and the void. They consider what it means to be invisible, to leap into the unknown, and to value the unseen or immaterial.
Ideas about nothing have been investigated within different disciplines. Mathematicians have written extensively about the nature of zero, scientists' research anti-matter and black holes, philosophers ponder on the reality of our existence. Artists also have a history of exploring visual, playful and philosophical approaches to the void, invisibility, and absence.
Although the idea of NOTHING may be articulated in terms of cosmology, theology, philosophy or poetry, the dimension of social critique is also evident. Info-ecological effort to insert into info-sp