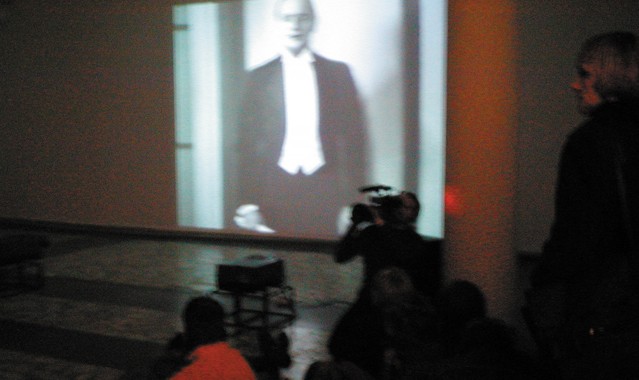 Artists [Every day each artist of the project will present an individual programme of previously unseen foreign films]:
September:
29 Gediminas Akstinas
30 Kestutis Andrasiunas
October:
2 Vytautas Balcytis
3 Darius Bastys
4 Kostas Bogdanas
5 Aida Ceponyte & Valdas Ozarinskas
6 Jonas Gasiunas
7 Darius Gerasimavicius
9 Linas Jablonskis
10 Donatas Jankauskas
11 Evaldas Jansas
12 Patricija Jurksaityte &r Marius Puskunigis
13 Leila Kasputiene
14 Marius Kavaliauskas
16 Algimantas Kuras
17 Algis Lankelis
18 Dainius Liskevicius
19 Gintaras Makarevicius
20 Aurelija Maknyte
21 Darius Miksys
23 Mindaugas Navakas
24 Mindaugas Ratavicius
25 Jurgita Remeikyte
26 Galmantas Sasnauskas
27 Alma Skersyte
28 Irma Stanaityte
30 Vilma Sileikiene
31 Gintautas Trimakas
Curator: Kristina Inciuraite
Schedule of the event: [28 September – 31 October 2001]:
Evening of theoretical presentations 5 pm: "Ways to the Alien's World: Stalker's and Enthusiast's Characters", Gintautas Mazeikis (Doctor of Arts (Philosophy), Associate Professor, Head of the Philosophy Department of Siauliai University, Director of the Culture Anthropology Centre of Siauliai University); "Being an Alien – Destiny or Free Choice?", Rimantas Kociunas (Director of the Institute of Human and Existentialistic Psychology, Associate Professor of Vilnius University); "Privacy and Security in the Information Society", Domas Uselis (Bachelor of Social Sciences of Vilnius University; Master degree studies in sociology- criminology at Vilnius University); "Alien's Passions", Virginijus Kincinaitis (art critic, Deputy Director of the Siauliai Art Gallery, Lecturer at the Department of Philosophy of Siauliai University).
Live sound and image project 8 pm: with the participation of: HAPPYENDLESS (music) + Kristina Inciuraite (video) + Ignas Krunglevicius (music) .
Every day from 11 am to 7 pm, each artist of the project will present an individual programme of previously unseen foreign films.
The purpose of this year's event "Parallel Progressions" is to discuss the aspects of strangeness which have been gradually emerging over the recent decades. From the retrospective point of view, this is the alienation genesis: an economic definition of alienation by K. Marx, an existential description of a fatal hero by S.A. Kierkegaard, M. Heidegger, J-P. Sartre, social identification of E. Durkheim's anomie and lost traditions, reproductive elements with extinct authenticity in W.Benjamin's texts, post-structural M. Derrida's contemplation, publicising the elements of force and mechanisms of governance in M. Faucault's theories, as well as migrating pessimism of J. Baudrillard's virtual realities [etc.] provoked the concept of the fragmented alienated identity. This basically covered only a few aspects of alienation, which are listed here to remind of a variety of problems influencing today's style of thinking and cultural processes. In order to present a more extensive picture of alienation problems, several theory specialists were invited to voice their opinion and interpret this phenomenon from their professional point of view.
The Alien is a remote, forgotten, left aside, not acquired, etc. The purpose of the event is not only to discuss the image of the alien, but also to reject him metaphorically, by remembering and acquiring what is beside us but does not belong to us:
Interactive joy of cognition easily turns into inter-passiveness in the modern society: information is actively collected, [e.g. databases] but not fully used up. We fail to use the available information resources – it is enough to know that such information exists, that it can be accessed, acquired and applied. This failure to use the potential opportunity to gain knowledge is a certain form of alien, not acquired and not felt experience.
To illustrate this phenomenon and to discard it, the "Parallel Progressions" event offers an opportunity for Vilnius artists to present the programme of foreign films which they have not seen before but would like to see. The opportunity for the participants to watch films and to present them to spectators could be regarded as a minimum everyday utopia to assimilate and feel phenomena and things which frequently pass by unnoticed, things for which we lack time, or things we simply forget.
Feature films are selected for the demonstration because they combine different forms of art, generate psychological, social, philosophic, or artistic discourses of the society and still retain the heroic function of art – they relate stories from a specific period and educate a spectator. Thus, mistakes of cinematography, and boredom radiating from many films are easily forgiven [Francesco Bonami].
Every day of the event, a different artist presents his/her own individual programme of films in the basement of the CAC. Twenty-eight days of film programmes offers up to one hundred films to the audience. This creates a slightly ironic situation: a long, constantly changing programme of films prevents the spectator from seeing all the films, and the artists themselves have not seen the films either. The mere awareness of what type of films were selected by an artist is enough. An artist's choice provides additional information to the spectator about the artist's personality: his interests, things which move the heart, excite or provoke him, etc.
Films which were obtained in different forms and frequently are of not of very high quality bring us back to the time [a few decades ago] when the first video recorders appeared and tapes were in constant use. Foreign films used to be watched from morning till night to satisfy the need for imagery, compensate for the lack of economic and social welfare. Watching films gradually became one of the factors which shaped the identity of a Lithuanian-speaking individual, national awareness and self- esteem. This is why "Parallel Progressions", which last year came up as an alternative event for the exhibition of the Lithuanian art, continues its tradition to respond to the surrounding context. The programme of foreign films selected by Vilnius artists, which supports imagery archives of this year's exhibition of Lithuanian art, controversially contributes to the scale of our identity.
The film programme presented by the artists in this festival should be viewed not as a mere event of watching films but as a social-cultural phenomenon, which reflects the reasons of its birth and identifies the conceptualised selection of an artist. The selected films become an individual reflection of an artist, his social and artistic selection, a phenomenon of social survey. These and alike parallel situations in the contemporary society become of no less importance than the new products generated by an artist: this situation was caused by the current supply, the abundance of which forces to conceptualise everyday processes.