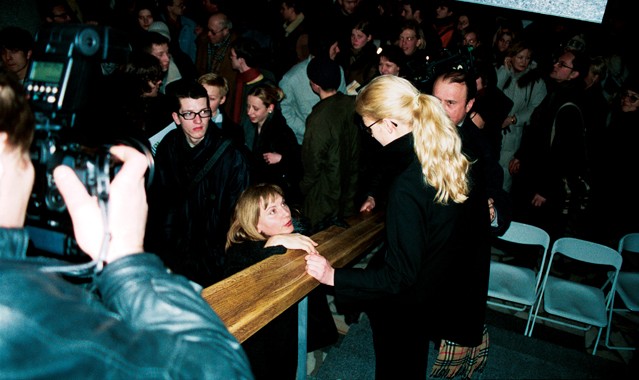 On March 9, 2001, the exhibition 'Egzotika' opened at the Vilnius CAC. During this opening, Arturas Raila presented his ongoing solo project Participation/Vytaute. This work can be seen as a continuation of the social design strategies devised and developed by this Vilnius-based artist since the mid-1990s.
The first component of the Participation/Vytaute project was implemented in 2000, within the framework of the exhibition 'Realm of the Senses' in the Finnish city of Turku. Just like in Vilnius, the participant is the young Lithuanian-born London artist Vytaute Kuzmickaite/Vita Zaman. Following Arturas Raila's prescriptions, she represented him in the exhibition, i.e. she acted on behalf of the artist Arturas Raila, who had been invited to do a show in Finland. As an official participant in that exhibition he was expected to present his own work. Instead, Raila opted for an act of criticism against the art system and staid at home.
It is well known that participation and representation are among the dominant features in the art system, and of crucial importance to the way it functions. There is no collective project, neither local nor international, without somebody performing the part of the participant. And participation is usually reduced to a purely political category, a confirmation that the system is working as it should and that the funds allocated for culture are being put to rational use. The participant participates, in order to keep the system going. In his Participation/Vytaute project, Arturas Raila is sampling the self-evident – and therefore often unnoticed – part played by the system, and elaborating it as an active social phenomenon. In this project of his, the critique of the culture management circuit becomes more important than the production of cultural content.
Here, another component of the art system is also performing an important function – the mass media. Traps, a culture programme in state Lithuanian television, and the cultural supplement of the leading daily Lietuvos Rytas make special interviews with Vytaute (see the photographs) about Arturas Raila's project and about different ways of integrating into the Western art system when she, just like the other opening guests, is viewing the exhibition 'Egzotika'.
Raimundas Malasauskas