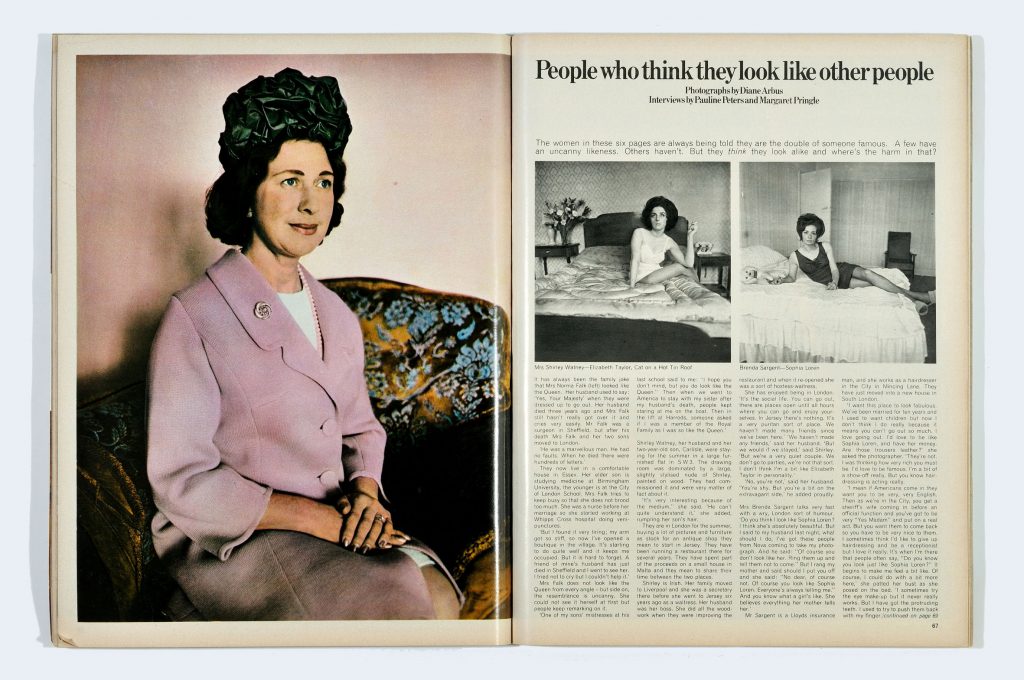 Opening on Friday 16 April at 6 pm
Guided tour with Pierre Leguillon on Saturday 16 April at 12 pm (noon)
The exhibition is a retrospective of famous American photographer Diane Arbus. The photographs are shown in the pages of the magazines that originally commissioned and published them: Harper's Bazaar, Esquire, The Sunday Times and Nova, among others. The exhibition was conceived by French artist Pierre Leguillon.
Diane Arbus (1923–1971, born Nemerov) began taking photographs in the 1940s. Daughter of a fur maker, Diane grew up in the chic neighborhood of the Upper West Side in New York. While still a teenager, she met Allan Arbus, who would go on to become her husband and the father of her two daughters. She began her career by collaborating with him for fashion magazines such as Glamour, Seventeen, and McCall's. In the middle of the 1950s, she acquired a professional independence and took classes at the New School with Alexey Brodovitchl. But it was not until 1957 that, working with Lisette Model, she found a real sense of artistic understanding. In 1963, then in 1966, she was awarded two Guggenheim fellowships, which would allow her to concentrate her activity in New York and its environs. She was fascinated by unusual people such as transvestites, freaks, nudists and twins. Seeking out extraordinary experiences and encounters, she took many photos, always in black-and-white, and sought to reveal the intimacy between the photograph itself and the person photographed, without beating about the bush. In 1967, she participated in the exhibition New Documents, Photographs by Diane Arbus, Lee Friedlander and Garry Winogrand at the MoMA in New York. Diane Arbus' work had a controversial reception, but her photos asserted themselves as genuine works of art as opposed to the product of mere photographic reportage. She devoted the final months of her life to a long series realized in psychiatric hospitals, which would not be published until after her death, under the title Untitled. She committed suicide in July 1971, in Greenwich Village. Her work marked the history of photography and has influenced several generations of artists.
"This artist is daring, extremely gifted, and a born huntress. There may be something naïve about her work if there is anything naïve about the devil. Arbus's style is all in her subject matter. Her camera technique simply stops at a kind of automatic, seemingly effortless competence. That doesn't matter: we are satisfied to have her make her own photography speak clearly. Her distinction is in her eye, which is often an eye for the grotesque and gamey; an eye cultivated just for this—to show you fear in a handful of dust," wrote Walker Evans, alluding to the famous line of poetry by T.S. Eliot.
Dane Arbus's current impact is emphasized by works of several other artist featured in is exhibition: Steve Brodner, Victor Burgin, Céline Duval, Walker Evans, Stanley Kubrick, Annie Leibowitz, Matthieu Laurett, Bill Owens and Wolfgang Tillmans.
The exhibition is accompanied by a publication that briefly introduces the people she photographed and the original context of Diane Arbus's photographs featured in this exhibition.
Pierre Leguillon Features Diane Arbus: A Printed Retrospective, 1960 – 1971 was co-produced by Kadist Art Foundation, Paris and Centre Régional de la Photographie Nord Pas-de-Calais, Douchy-les-Mines. It is now part of Collection Kadist Art Foundations.
The presentation in Vilnius is supported by the American Center, French Cultural Centre and l'Institute Française – Ministère des Affaires étrangères et européennes.
Image: Nova, October 1969, People Who Think They Look Like Other People © 1969 The Estate of Diane Arbus, LLC