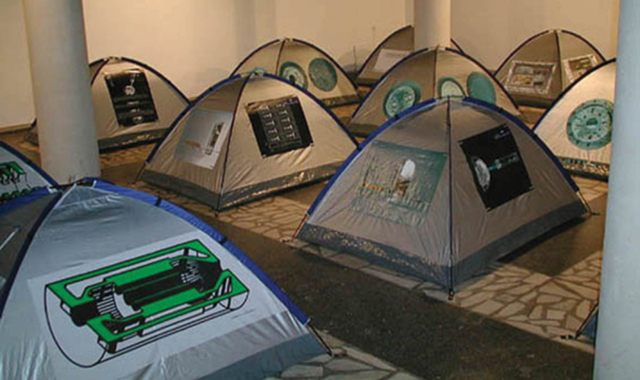 Artists:
Valdas Ozarinskas & Aida Čeponytė
Audrius Bučas
Marina Bučienė
Gintaras Kuginys
Darius Čiuta
Ginas Stelbys
Modestas Šipyla
Tomas Rasiulis
Tomas Grunskis
The works of Valdas Ozarinskas & Aida Čeponytė, Audrius Bučas, Marina Bučienė and Gintaras Kuginys can be considered as some of the best examples of contemporary Lithuanian architecture. Together, they designed the highly acclaimed Lithuanian pavilion at Expo 2000 in Hanover.
These architects together with Darius Čiūta, Ginas Stelbys, Modestas Šipyla, Tomas Rasiulis and Tomas Grunskis presented a special project of conceptual architecture, which was shown at the Millennium Dome, London in August 2000.
'Room 01 – 14' consist of fourteen tents onto which depictions of architectural projects have been printed. The authors suggest architectural models for a postindustrial society. The tents are accompanied by a video screen which presents a unique panorama of Vilnius – the capital city of Lithuania.
The unusual, witty projects do not seek to become final solutions but are the personal reflections of the architects. The project also aims to highlight the continuing problems of interrelations between the concept, the city and its citizens.