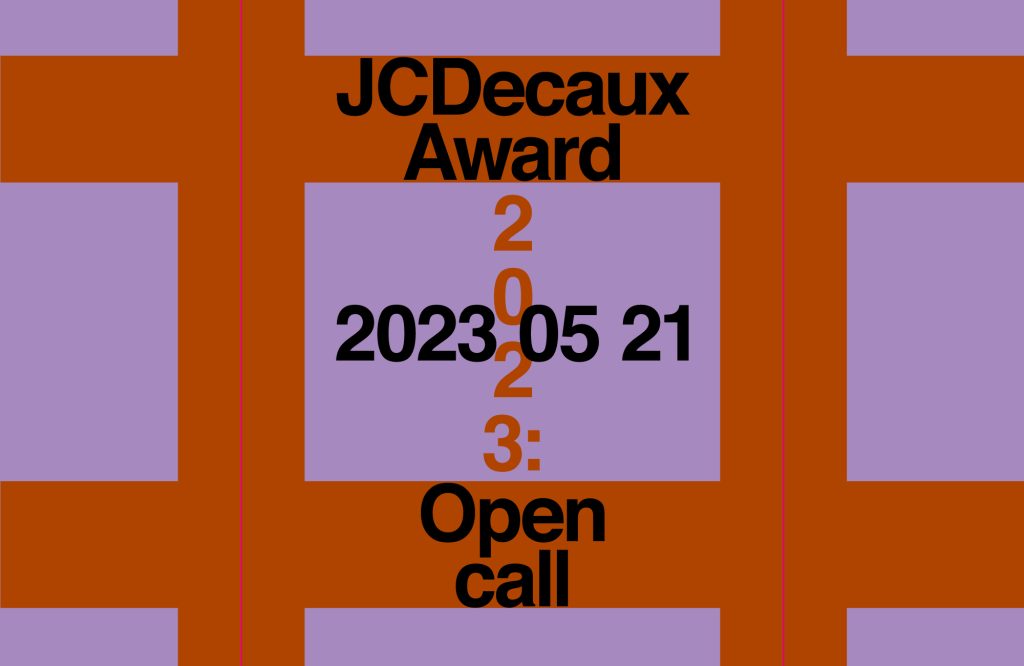 The Contemporary Art Centre (CAC) in collaboration with JCDecaux Lithuania announces an open call for artists to submit ideas for new works to become part of the 8th exhibition JCDecaux Award 2023. The exhibition will be displayed at the National Gallery of Art, a branch of the Lithuanian National Museum of Art.
For the eighth consecutive spring, the outdoor advertising company JCDecaux Lithuania and the Contemporary Art Centre (CAC) present their collaborative project: a series of annual exhibitions aimed at promoting the work of emerging artists and disseminating it in Lithuania and abroad. Alongside the open call, JCDecaux Award 2023 also introduces a new curatorial team, consisting of Kotryna Markevičiūtė and Ona Juciūtė. Their creative duo combines different experiences harmoniously, with Markevičiūtė contributing her insights as a curator of art and education, and Juciūtė as an artist, curator, and stage designer. Together, they invite artists to submit proposals and ideas for works that will form a conceptual exhibition in the autumn. Artists are encouraged to boldly explore new ways of seeing reality and different experiences of time, technology, and materiality, as well as to establish and reflect on connections between different forms of knowledge and practice. Proposals for creative projects are welcome until 21 May. The architecture of this year's exhibition will be designed by landscape and exhibition architect Povilas Marozas.
The curators of the upcoming exhibition express their enthusiasm for the unique opportunity to discover the unheard stories of contemporary artists. The National Gallery of Art (NGA) houses a nationally important collection of artworks from the first decades of the 20th and 21st centuries. Markevičiūtė and Juciūte invite artists to take part in the competition, noting that the history of modern and contemporary Lithuanian art is often written with an emphasis on generational change, contrasting new art with old or traditional art. According to the curators, 'placing this young art competition alongside the NGA collection encourages a rethinking of the ideas of artistic rivalry and the inherent self-referentiality of the artistic field, where one's identity is built in relation to 'past versions.' Displayed on the wall opposite this collection, the new JCDecaux Award exhibition will provide an opportunity to establish a non-linear, polysemantic conversation between the works, their materiality, and their stories.'
After the submission deadline of May 21, the curators will select five projects to form a conceptual group exhibition for the JCDecaux Award 2023. Each participating artist or collective will receive a production budget of €1,500 and curatorial support. At the end of the exhibition, an international jury will award a cash prize of €4,000 to one participating artist or collective for the originality, relevance, and artistic expression of the work presented. Visitors will get the opportunity to vote for the winner of the Audience Prize.
OPEN CALL AND ITS CONDITIONS
Participants in the JCDecaux Award exhibition are selected through an open call. The competition is open to artists who have Lithuanian citizenship (including those living abroad) and to foreign artists who permanently work and reside in Lithuania, are aged 18 or over, and are just starting their artistic careers (i.e., have not had solo exhibitions in important Lithuanian or foreign art institutions). 
The application consists of a project description (no longer than one A4 sheet), visual material of the project (preliminary visualisations, sketches, stills), preliminary cost estimate, a free-form CV, and a portfolio of works. All materials must be submitted in a single PDF file of no more than 5 MB.
Please submit your application by MIDNIGHT ON 21 MAY at jcdecauxpremija.lt. The participants will be announced by early July. The exhibition is planned to open at the National Gallery of Art at the end of October this year.
ABOUT THE CURATORIAL TEAM
KOTRYNA MARKEVIČIŪTĖ is a curator of art and educational activities and a researcher. In her professional activity, she combines interests broadly encompassing contemporary art, cultural education, and sociology. Markevičiūtė is interested in the interdisciplinary interaction between these fields, both in creating new experiences of art and cultural education and in reflecting on the relationship of contemporary art with established ways of knowing (science) or forms of organising social life (politics). Markevičiūtė currently works in the education department of the National Gallery of Art and collaborates with other Lithuanian cultural institutions on curatorial and educational projects. In 2018-2020, she was a curator of residencies and exhibitions at the Rupert Centre for Art, Residencies and Education, where she co-curated the exhibitions Jonas Mekas: Let Me Dream Utopias (2019, Rupert) and Other Rooms (2020, Rupert, LDS Gallery). 
ONA JUCIŪTĖ is an artist, curator, and stage designer based in Vilnius. She has held solo exhibitions at Editorial Project Space (Vilnius) and the Centre for Contemporary Art Derry~Londonderry (London). Her work has also been presented in group exhibitions at MOCAK Museum (Krakow), Istanbul Biennial Parallel Programme, Kaunas Artists' House, and multiple institutions in Vilnius, including the Contemporary Art Centre, National Gallery of Art, Atletika, Rupert, Swallow Project Space, and others. Juciūtė participated in residency programmes at AIR Niederosterreich in Austria, Stiftung Kuenstlerdorf in Germany, and Diyalog Istanbul in Turkey. In 2021, her sculptures became part of the permanent collection of the Kiasma Museum of Contemporary Art in Helsinki. Juciūtė has been awarded the JCDecaux Prize 2016 and a prize founded by Lithuanian-born American artist Aleksandra Kašuba.
For more information, please visit jcdecauxpremija.lt