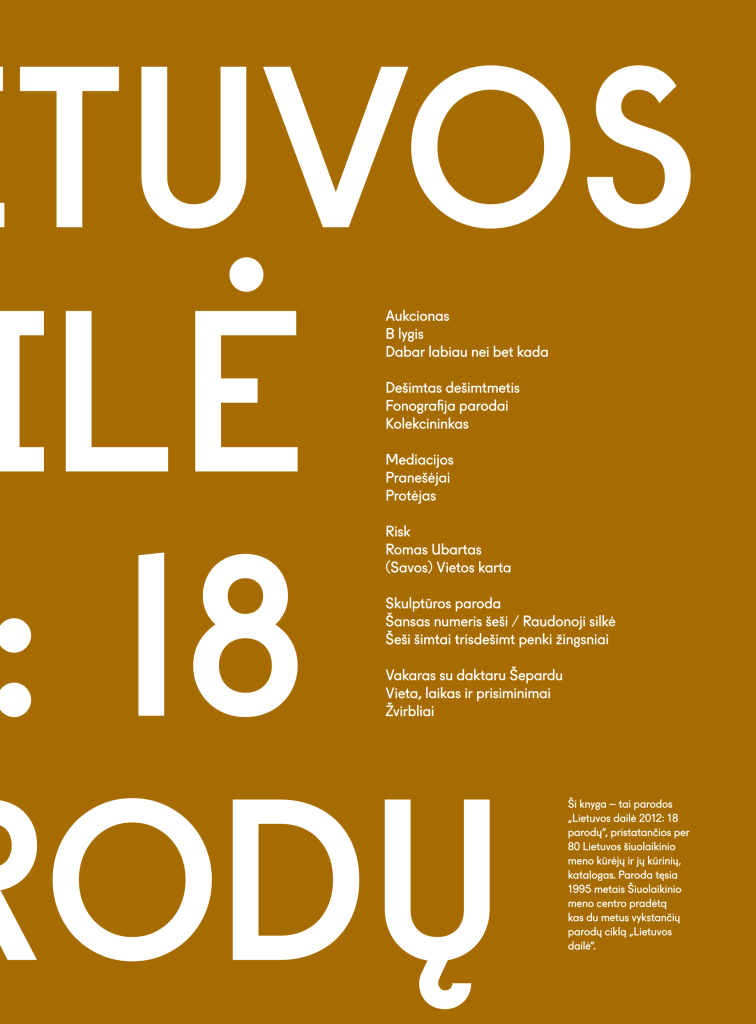 Editor:
Asta Vaičiulytė
Artists presented in the catalogue:
Gediminas Akstinas, Gediminas G. Akstinas, Lina Albrikienė, Akvilė Anglickaitė, Arnas Anskaitis, Jurga Barilaitė, Eglė Budvytytė, Liudvikas Buklys, Arturas Bumšteinas, Ezio Castellucci, Alex Cecchetti, Cooltūristės, Neringa Černiauskaitė, Darius Čiuta, Žilvinas Danys, Gintaras Didžiapetris, Dalia Dūdėnaitė, Agata Erlacher, Nerijus Erminas, Chris Fitzpatrick, Laura Garbštienė, Antanas Gerlikas, Ugnius Gelguda, Arūnas Gudaitis, Kristina Inčiūraitė, Donatas Jankauskas, Evaldas Jansas, Vytautas Kazimieras Juozėnas, Darius Jurevičius, Laura Kaminskaitė, Linas Leonas Katinas, Aistė Kisarauskaitė, Tim Kliukoit, G. K. Kortling, Ignas Krunglevičius, Žygimantas Mesijus Kudirka, Mikko Kuorinki, Diana Kuzmickaitė, Gabrielė Labanauskaitė, Žilvinas Landzbergas, Karl Larsson, Milda Laukinaitė, Saulius Leonavičius, Rudolfas Levulis, Anton Lukoszevieze, Juozas Laivys, Marcos Lutyens, Gintaras Makarevičius, Aurelija Maknytė, Nicholas Matranga, Alina Melnikova, Božena Miežonis, Darius Mikšys, Elena Narbutaitė, Robertas Narkus, Mindaugas Navakas, Saulė Norkutė, Audrius Novickas, Brandon Wall Olsen, Marija Olšauskaitė, Valdas Ozarinskas, Gerda Paliušytė, Paul Paper, Jurgis Paškevičius, Franz Peleschka, Matthew Post, Paulina Eglė Pukytė, Eduardo Rossi, Arūnas Sverdiolas, Tadas Šarūnas, Emilija Škarnulytė, Triin Tamm, Gintautas Trimakas, Rimantas Tumasonis, Gintarė Valevičiūtė, Kazys Varnelis, Milda Zabarauskaitė, Laura Zala, Simona Žemaitytė, Jurgita Žvinklytė
Curators:
Tautvydas Bajarkevičius, Julija Fomina, Auridas Gajauskas, Armantas Gečiauskas, Virginija Januškevičiūtė, Ilona Jurkonytė, Ilona Klimaitytė, Laima Kreivytė, Monika Lipšic, Vytautas Michelkevičius, Gerda Paliušytė, Inesa Pavlovskaitė, Valentinas Klimašauskas, Kristupas Sabolius, Gintarė Žitkevičiūtė
Design:
Jurgis Griškevičius
In Lithuanian, 224 pages, full-colour images.
ISBN 978-9986-957-51-5
Published by Contemporary Art Centre, 2012.
Catalogue of the exhibition "Lithuanian Art 2012: 18 Exhibitions", which presents over 80 participants and their works. In the book, projects' documentation is complemented with and extends through the texts by artists, curators, philosophers and theorists.