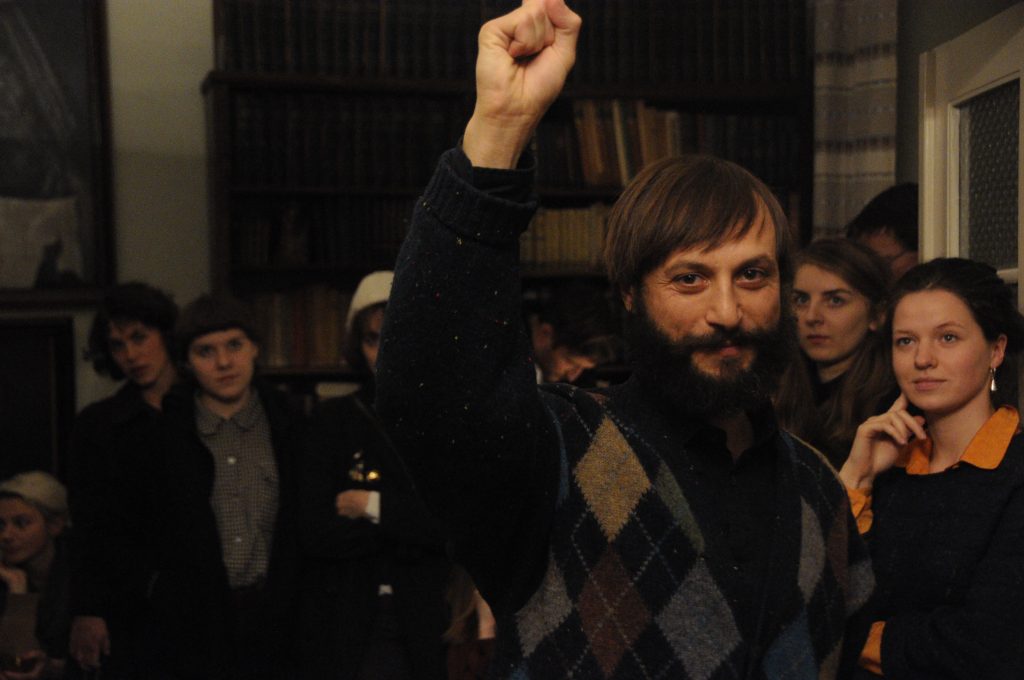 One day is enough, dear William,
if in the morning I could see some of your drawings
and have lunch at the window with you.
Then we could walk that walk and sit in the shade,
watching the passersby without talk.
And when I'll be tired from all the light and the rain,
and my head will no longer retain the shapes of faces,
it will be nice to hear one of your stories
while staring at the snow whirling or at the red evening sunset.
One day is enough, if you give me the night as well.
And I promise not to use a knife against the sky to mark constellations,
but I will try, as much as you, to throw a net to accomplish my simple task.
And our yesterday as any other tomorrow would be the gift of now.
This show is a long day out, a story in which the event changes as the light does or as your mood does sometimes too. And if no moment is better than the morning to see some drawings, the evening is good for tales. The exhibition is there but not in its entirety at the same time. It is like making an oil painting of an exotic bird; you cannot ask the bird to stand still, you would have to kill it first, or tangle it in a rope or follow its flight and retain some of its qualities in your memory. What kind of painters would be able to reproduce such a creature? Or else, imagine explaining what a cloud is to someone that has never seen one.
— Daily program —
12.00—13.00
A CHANCE FOR GEOMETRY
drawings
16.00—19.00
H
choreography for hidden nudes
18.30—19.00
SUMMER IS NOT THE PRIZE OF WINTER
performance relay
19.00—19.15
THEORY OF RISING
video
produced with Caribic Residency
20.00
DISASTER IS A SHELTER
chorus
20.00—12.00
A SIMPLE TASK
— During the exhibition —
I GIOCATORI (THE PLAYERS)
Alex Cecchetti and Liudvikas Buklys
a game of conversation
February 29 at 6 PM
Contemporary Art Centre, cinema hall
More information: http://cac.lt/en/other/general/12/5623
COMRADES OF FEAR AND WONDER
performance/public filming
Part 1
Exercises for 4 singers and 5 dancers
March 10 at 3 PM
Lithuanian National Opera and Ballet Theatre (foyer), Vienuolio St. 1
More information: http://cac.lt/en/other/general/12/5619
Part 2
Exercises for 6 dancers
March 15 at 5.30 PM
A. Mickevičius Library (reading room), Trakų St. 10
More information: http://cac.lt/en/other/general/12/5621
Partner of the project: Lithuanian National Opera and Ballet Theatre.
The exhibition is supported by the French Institute in Lithuania.
The exhibition has been carried out within the framework of Survival Kit with the support of the Culture 2007–2013 programme of the European Union.
Curators: Virginija Januškevičiūtė, Monika Lipšic, Inesa Pavlovskaitė.
Illustration: Alex Cecchetti during his performance at V. Mykolaitis-Putinas museum, Three Uses of the Knife, 2011 (Photograph by Julius Balčikonis.)