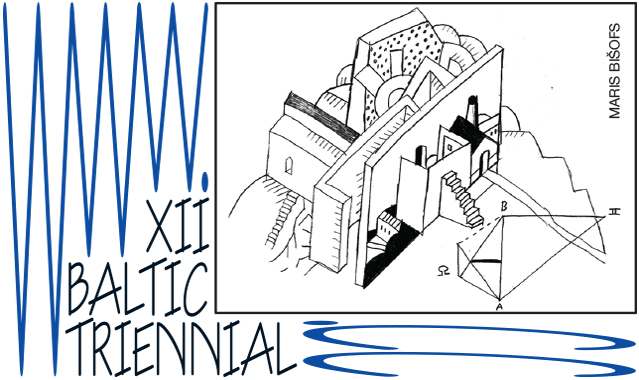 WHAT IS AN ARTWORK TODAY CAN BE SOMETHING ELSE ENTIRELY TOMORROW – this sentence, picked out from an interview with the artist David Bernstein, is at the very heart of the forthcoming Baltic Triennial. The idea is not new: how we perceive an artwork and what we expect of it changes in time. Things get forgotten, switched around and we end up looking at the wrong end of a musical instrument or playing a painting back to front. Sometimes, however, that's on purpose: a composition decomposes, a song becomes a mood, a sculpture – a model, and a drawing – a letter. Are we then to talk about uses of art or rather about the art of uses? Or better skip art at all? Well, let's find out.
This year's Triennial will focus on the Baltic more than the previous editions, on the geographical region, its culture and the sea. It is a decidedly transdisciplinary event that, in its own motto of sorts ("what is an artwork today…") is mainly interested in the "something else". The exhibition opens up a range of topics and their couplings including influence, exchange, materiality, and impact. It's primarily an exhibition at the CAC, but the programme of events – talks, launches, presentations, classes and performances – spanning six weeks will expand behind the scenes.
Some keywords:
MURMUR
MODEL
MOOD
MOON
MENU
SISTERS
TEMPLE
SYZYGY
EDUCATION
ALREADY THERE
DECOMMISIONING
BIOMORPH
BIOGRAPHY
PARTICLE
PLASTIC
BALTIC
PROTOTYPES
CLIMATE CHANGE
MICROORGANISMS
SEABASING
SHIPWRECK
VOICE
MIST
SPIT
PHARMAKON
MORE PLASTIC
PREGNANT
BUTOH
COLOR
CLASSES
BALLARD
BALTXPLOITATION
ONYX
WOODS
MYTH
HOLY MOTORS
OCEANS ACADEMY OF ARTS
SCALE
MYRIAD
PALACE OF INVENTIONS
CURRENCY
PRACTICALITY
OS
WAVES
NOW
The public programme of the opening weekend will include a lecture-concert on the Suprematist theory of time by artist Perrine Bailleux (as a tribute to last year's exhibition by Dexter Sinister); a screening of Temple Operating System by Terry Davis organised by Warsaw-based collective BRUD; and the premiere of Lithuanian curator and filmmaker Gerda Paliušytė's film, The Road Movie.
Throughout September and October the programme of events will continue with BRUD's crypto-currency fairytale; lectures by Post Brothers and Adam Kleinman; a series of phone conversations curated by Jennifer Teets and Margarida Mendes (The World In Which We Occur); advance presentations by The Baltic Pavilion created for the 2016 Venice Biennial of Architecture; parallel educational programmes developed with artists Gediminas and Nomeda Urbonas (part of the Zooetics Pavilion of Ballardian Technologies presented at the exhibition in collaboration with Kaunas University of Technology), Jay Tan, Perrine Baillieux, The Oceans Academy of Arts and the CAC's educator Audrius Pocius. A parallel series of lectures and seminars will be organised at Vilnius Academy of Arts.
For further information please email the CAC's press office, [email protected]
The Triennial's pilot programme in 2014 included opening up the CAC staff kitchen for public events, a semester of interdisciplinary seminars at Vilnius Academy of Arts (both co-organised with Aurimė Aleksandravičiūtė and Jonas Žakaitis), the exhibition "Work-in-PrOgress" arranged by Dexter Sinister and their incantation/talk "The Last ShOt Clock", and the group exhibition "Prototypes". After the Triennial closes in Vilnius on October 18, 2015, its other iterations will be presented in various scales and formats at Bunkier Sztuki Contemporary Art Centre in Krakow (November 25, 2015 – January 31, 2016, curated with Aneta Rostkowska) and "kim?" Contemporary Art Centre in Riga (March 18 – May 8, 2016). The project will conclude with a gathering on an Estonian island in the Baltic in the summer of 2016.