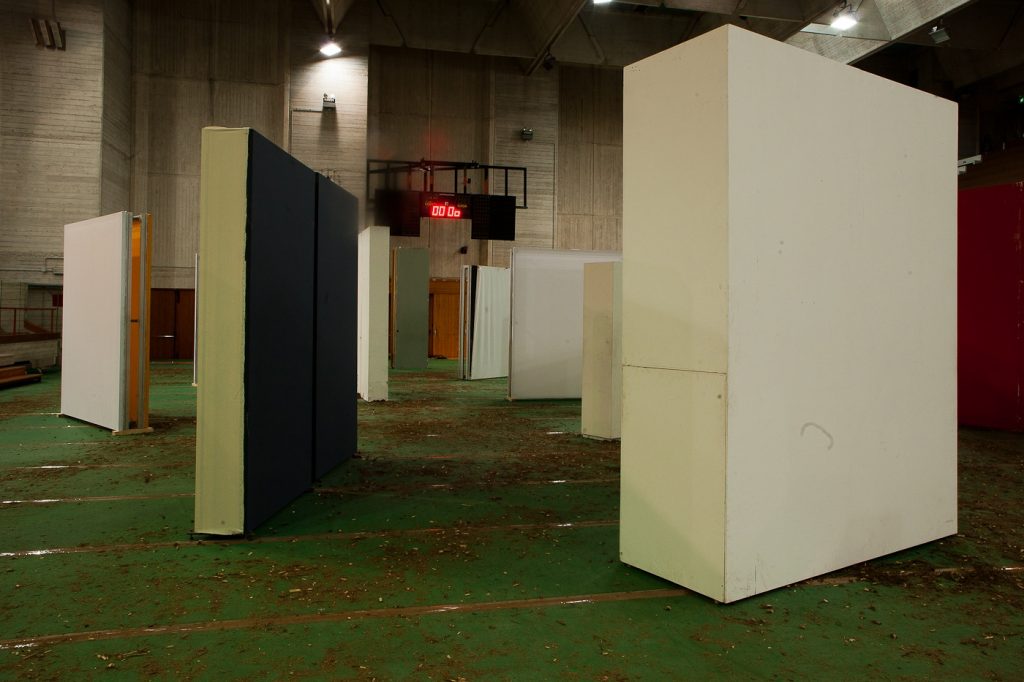 Precisely one year past at the 55th Venice Biennial
As part of the joint Cypriot-Lithuanian pavilion
Which was titled big-O little-o, and equally little-o big-O,
Depending on your point of view (depending on your point of view)
We were asked to participate 'as honorary Lithuanians'
By Raimundas Malašauskas, who assembled the whole show
In the Brutalist Palasport—a monumental sports hall with
A central court for basketball flanked by rows of concrete bleachers.
Our idea was then to hijack the court's two opposing scoreboards
And turn them into dual clocks (though you'd never see both at once).
These clocks would count time not by means of normal decimal numbers,
But using big-Os and small-os, that binary character set.
We sent along instructions to the scoreboard's manufacturer
To burn a microchip that would alter its usual function
And reprogram the system to display this maladjusted time,
Then christened it Work-in-Progress—in order to be continued…
– Dexter Sinister
An exhibition of work concerned with exiting regular modes of time arranged by Dexter Sinister.
Dexter Sinister is the compound working name of Stuart Bailey (UK) and David Reinfurt (USA). David graduated from the University of North Carolina in 1993, Yale University in 1999, and formed the design studio O-R-G in 2000. Stuart graduated from the University of Reading in 1994, the Werkplaats Typografie in 2000, and co-founded the journal Dot Dot Dot the same year.
Dexter Sinister was originally set up in 2006 to model a 'just-in-time' economy of print production, counter to the contemporary assembly-line realities of large-scale publishing. Since then the name has variously referred to (1) a publishing imprint, (2) a workshop/bookstore on New York's Lower East Side, and (3) work produced for and often within art venues. They are currently setting up a longer-term institution called The Serving Library together with Angie Keefer.
WORKS IN THE EXHIBITION
1. Kazimir Malevich, Sisters, 1910, oil on canvas. With thanks to Rūtenė Merkliopaitė and Perrine Bailleux.
2. Bruno Munari, Tetracono, 1965, multiple. Each cone spins at a different speed, collectively transforming from green to red over 18 minutes. Private collection.
3. Alighiero e Boetti, Contatore, 1967, multiple, edition of 123. Private collection.
5. Clock system diagram, Jespersen, J., and Fitz-Randolf, J., From Sundials to Atomic Clocks, 1977, silkscreen on wall.
6. Muriel Cooper, Self-portrait with Polaroid SX-70, c.1982, video imaged and printed at the Visible Language Workshop, MIT. Courtesy of Mass. College of Art & Design.
7. Stephen Willats, The World As It Is And The World As It Could Be, 2006, print on aluminium. Courtesy the artist and Victoria Miro, London.
8. Kazys Varnelis, The Last Shot, 2007–2008, oil on canvas. Courtesy of National Museum of Lithuania.
9. Photograph from the reverse of the instructions inside Ryan Gander's multiple, Parallel Cards, 2009 (a standard set of playing cards printed on both sides).
10. Dexter Sinister, Naive Set Theory, 2009, proof print.
11. Dexter Sinister, Watch Scan 1200 dpi, 2010, postcard.
12. Dexter Sinister after Albrecht Dürer, Death and the Landsknecht, 1510, as reproduced on back cover of Bulletins of The Serving Library No. 1 (2011).
13. Dexter Sinister, MTDBT2F glyph, 2011, composite Risograph print of letters from the typeface Meta -The-Difference-Between-The-Two-Font.
14. Raimundas Malašauskas, Photo Finish, 2011, hologram.
15. Dexter Sinister and Erik Wysocan, Watch Wyoscan 0.5 Hz, 2013, reverse-engineered Casio digital watch by Halmos.
16. Dexter Sinister, advertisement for Watch Wyoscan 0.5 Hz, 2013, digital print. Photograph by Jason Fulford.
17. Microchip used to re-program scoreboards at Palasport, Venice, Dexter Sinister's contribution to 'oO/Oo', the Cypriot-Lithuanian pavilion at the 2013 Venice Biennial.
18. Dexter Sinister, Work-in-Progress, 2013. Installation shot at Palasport, Venice, by Robertas Narkus.
19. Dexter Sinister, Poster for an Infinite Solstice Event, 2013, 35mm slide, light.
20. True Mirror, made by True Mirror Co., 2014.
21. Dexter Sinister, poster for Letter & Spirit, 2014, silkscreen print.
22. Dexter Sinister, Letter & Spirit, 2014, a program that runs a script, 16'06".
23. Angie Keefer, Fountain, 2014. Commodity futures indexes, video, transparent holographic screen, motion aftereffect. When markets rise, water falls forward; when markets sink, the fall reverses.
24. Dexter Sinister, Work-in-Progress, 2014, a pair of LED clocks programmed to tell the time identical to scoreboards adjusted at Palasport, Venice, one year ago.
EXHIBITION EVENT
Saturday, June 21 at 22:30pm: Staging of Dexter Sinister's The Last ShOt Clock, a two-sided incantation/talk written to conjure a party inadvertently missed one year ago. Doors open 10:30pm.
Event begins 11pm SHARP.
Illustration: Dexter Sinister, Work-in-Progress, 2014–2013. Photograph by Robertas Narkus.