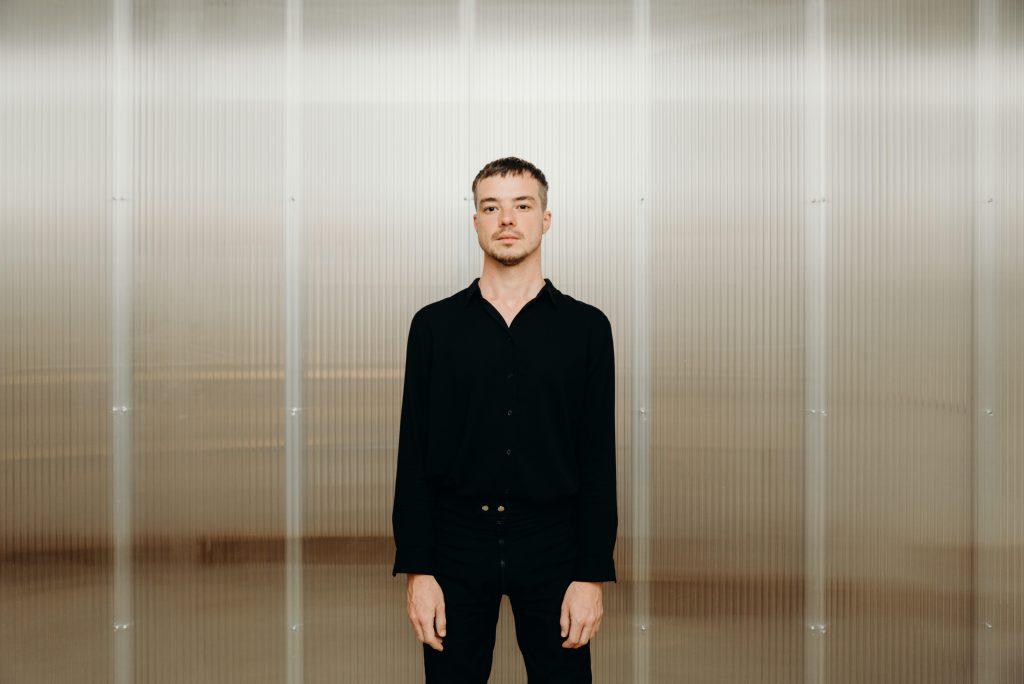 Concluding an invitation-based competition organised during the last six months, the Contemporary Arts Centre Vilnius announces that Tom Engels, a curator based in Brussels and Graz, will lead the artistic vision of the 15th Baltic Triennial. The main programme of the fifteenth edition will take place in mid-2024 in the reopened main building of the CAC.
Taking the newly renovated CAC building as its starting point, Engels' proposal opts for a concentrated approach to maximise the depth of engagement. Exhibition, performance, music, and text will revolve around each other in the triennial that is set to highlight the sensitising capacities of poetic experience in its material, gestural, and written forms. Through new commissions and existing works, both regional and international, his proposal taps into the core of the Baltic Triennial's legacy – an environment that has continued to host experimental and speculative expressions with a dedication to poetic gesture while being sensitive to the socio-political realities that shape its forms and existence.
According to Kęstutis Kuizinas, Director of the CAC Vilnius, "Tom Engels' curatorial vision for the 15th Baltic Triennial invites us to imagine a ray of light refracting through a prism and transforming into a multitude of narratives that complement, extend and challenge each other. Engels' multidimensional gaze is directed towards an intuitive perception of the world based on poetic principles and mechanisms, and through them, seeks engagement with the complex reality and awareness of the ever-changing (geopolitical) reality. I believe that it is this sensitively balanced curatorial approach that will meaningfully continue the history of the Baltic Triennial."
TOM ENGELS (b. 1989, Belgium) works as a curator, editor, writer, educator, and dramaturge at the intersection of performance and the visual arts. Since October 2021, he has been working as the Artistic Director of Grazer Kunstverein. His other recent curatorial projects include front, a series of display window exhibitions, Brussels (2021); trust & confusion in collaboration with Xue Tan and Raimundas Malašauskas, Tai Kwun Contemporary, Hong Kong (2021); Touch Release, Nassauischer Kunstverein, Wiesbaden (2021); Techno-Intimacies in collaboration with Joanna Zielińska, M HKA Museum of Contemporary Art, Antwerp (2021); Hana Miletić: RAD/Materials, Haus, Vienna (2020); another name, spoken, Jan Mot gallery, Brussels (2017); and the series Matters of Performance at the Royal Academy of Fine Arts (KASK), Ghent (2017–2019). His first curatorial project in Vilnius was Circa 2022, a two-picture exhibition curated together with Raimundas Malašauskas for Montos Tattoo in 2022.
He is the co-editor of Conversations in Vermont: Steve Paxton (2020), published by Sarma, the Brussels-based laboratory for discursive practices and expanded publication, for which he received a Robert Rauschenberg Foundation Archive Research Grant. He collaborated with such choreographers as Alexandra Bachzetsis during documenta 14 in Athens and Kassel, and Mette Ingvartsen for steirischer herbst in Graz, as well as with Mette Edvardsen, Bryana Fritz and PRICE/Mathias Ringgenberg. His writing has appeared in magazines including Artforum International, Frieze, Spike Art Magazine, Cura, Extra Extra: Nouveau Magazine Erotique, and De Witte Raaf, and in monographs of artists such as Zuzanna Czebatul (Distanz, 2021) and Nadia Belerique (Fogo Island Arts and Sternberg Press, 2022). Since 2013, Engels has held a visiting professorship at The Royal Academy of Fine Arts (KASK), Ghent, and has regularly contributed to various art education contexts such as P.A.R.T.S. (Brussels), a.pass (Brussels), SNDO (Amsterdam), and Centre National de la Danse (Paris).
THE BALTIC TRIENNIAL was first held in Vilnius in 1979 as an exhibition of young Baltic artists working in a non-conformist spirit. Since then it has steadily grown to become a major international exhibition in Northern Europe. The previous edition, The Endless Frontier, was curated by Valentinas Klimašauskas and João Laia in 2021, with book launch events organised internationally throughout 2022.
Photographer: Alexandra Bertels